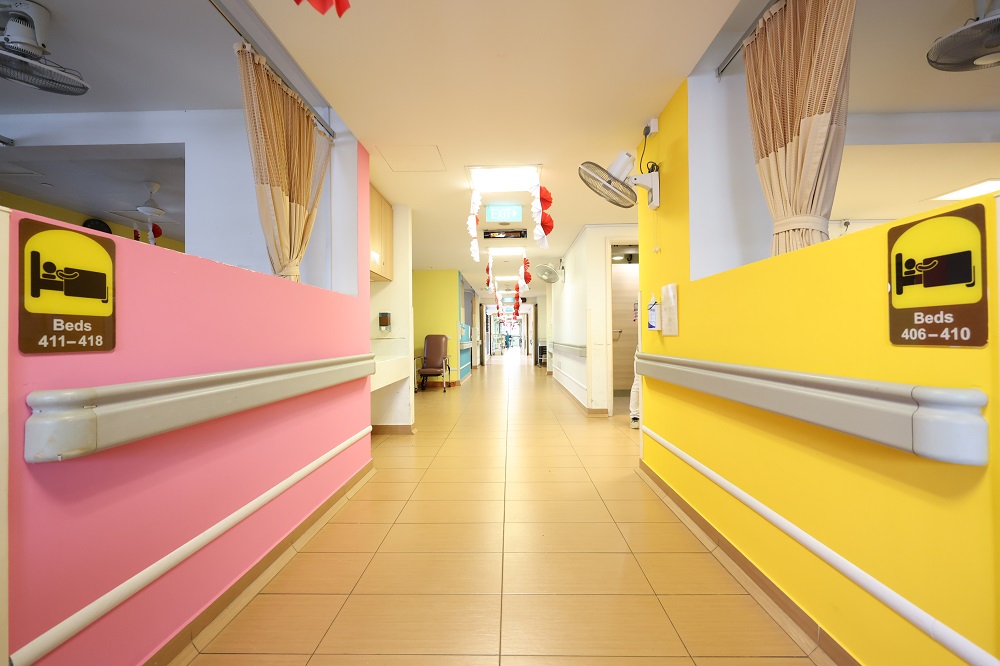 All Saints Home, a nursing home name many locals are familiar with. It is a home for many elderly to receive their much-needed care and attention, day in, day out.
While some of you may think that the environment, furniture and fittings seem just have to be simple to serve the basic needs of the elderly, however, the fact is that a little bit more design thinking is needed to make sure the nursing home is safe, comfortable and most importantly, accessible for both operators and residents.
Bed Areas
As the image showed at the top of this blog, the bed areas are gently illuminated with both natural and indoor lighting and they are highly ventilated. We decided to add a dash of vitality to the areas with the use of pastel colours – by painting blue, pink and yellow to the compartmental walls. These happy colours elevate the areas effortlessly and they make the areas pleasant during the day. We hope that it can help to uplift the residents' mood. This design also serves a more important purpose, that is to help the residents to identify the locations of their own beds.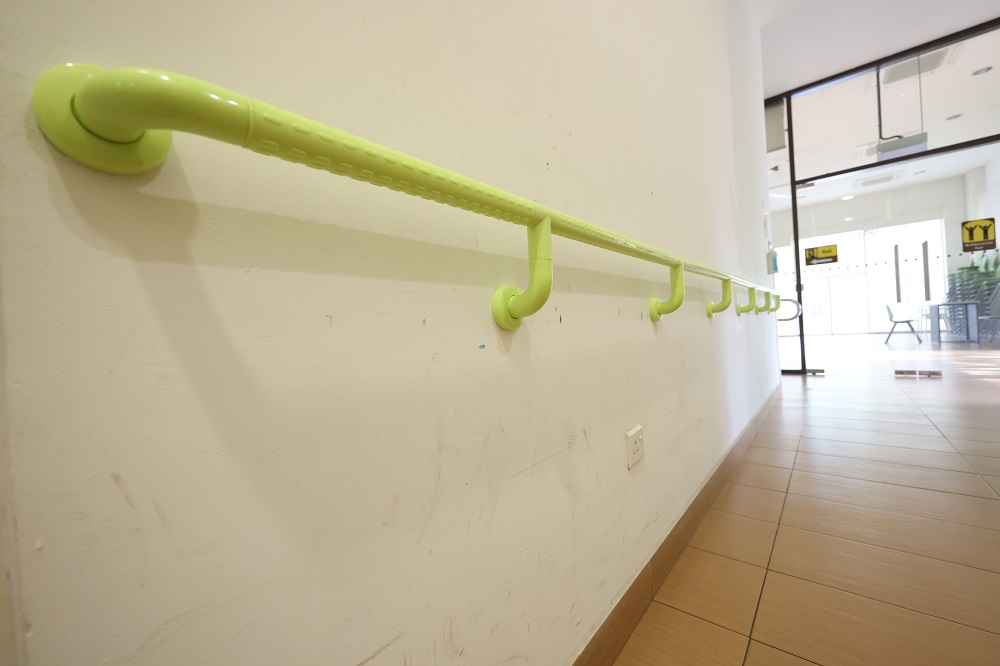 The grab bars around bed areas and walkways were installed to assist our lovely elderly to walk about safer. Just like anyone of us, they too, prefer to have a greater level of independence.
Accessible Restroom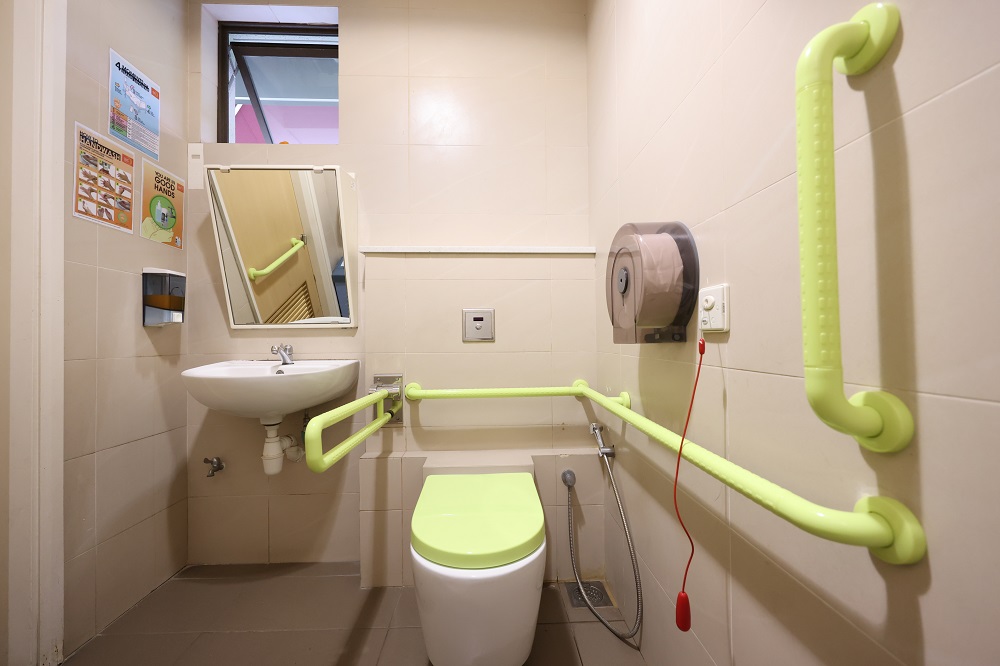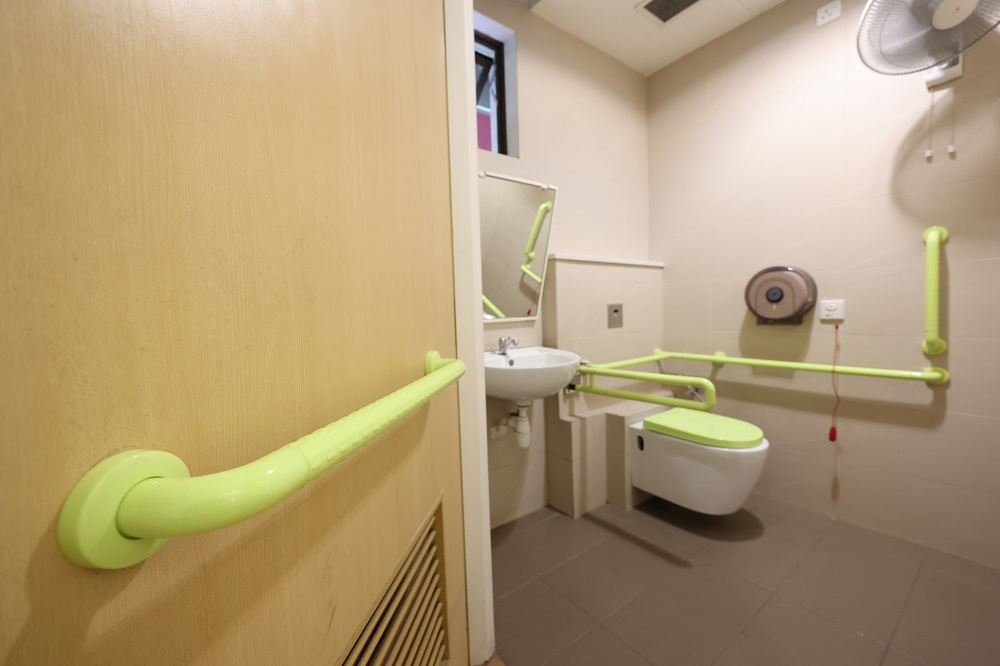 The accessible restroom with distinctive highlights for toilet seat cover and grab bars are to assist elderly with poor vision, so that they can identify the positions of those items with ease. The dimensions of the restroom are also adhering to the required Building and Construction Authority's (BCA) requirements to facilitate users with different mobility challenges.
The Conducive Corner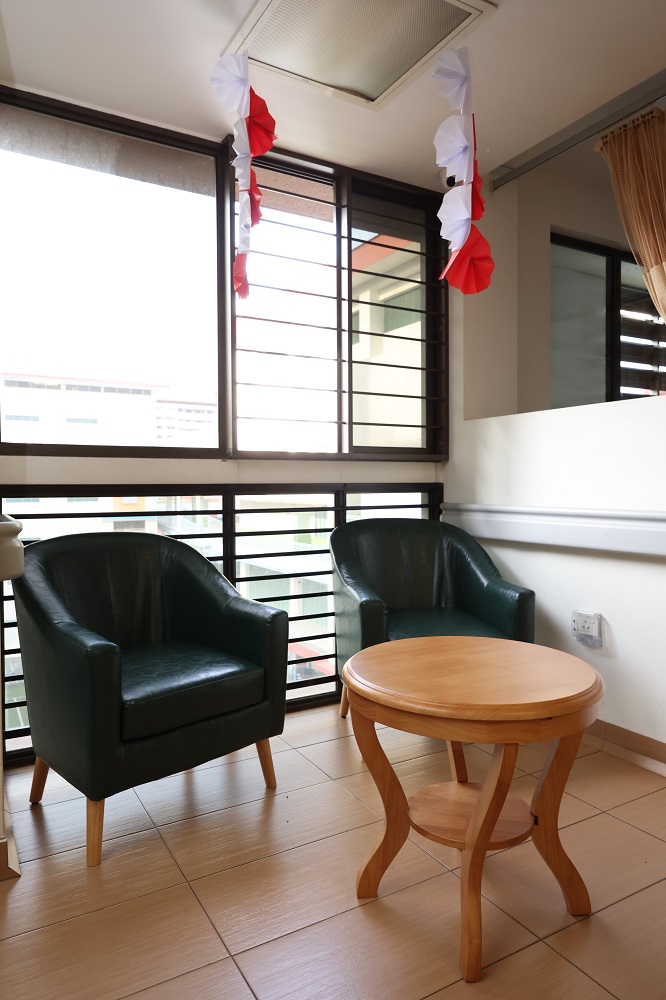 The conducive corner, on the other hand, is for the elderly to relax, unwind from mood swings or having chatty sessions with their buddies while enjoying cups of their favorite coffee.
The Nostalgic Corner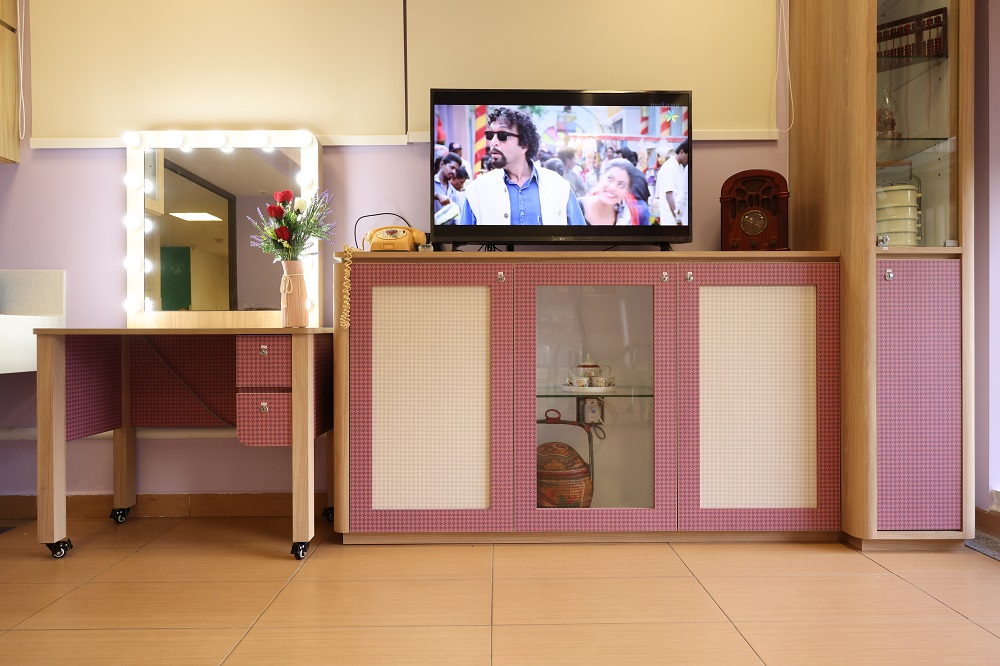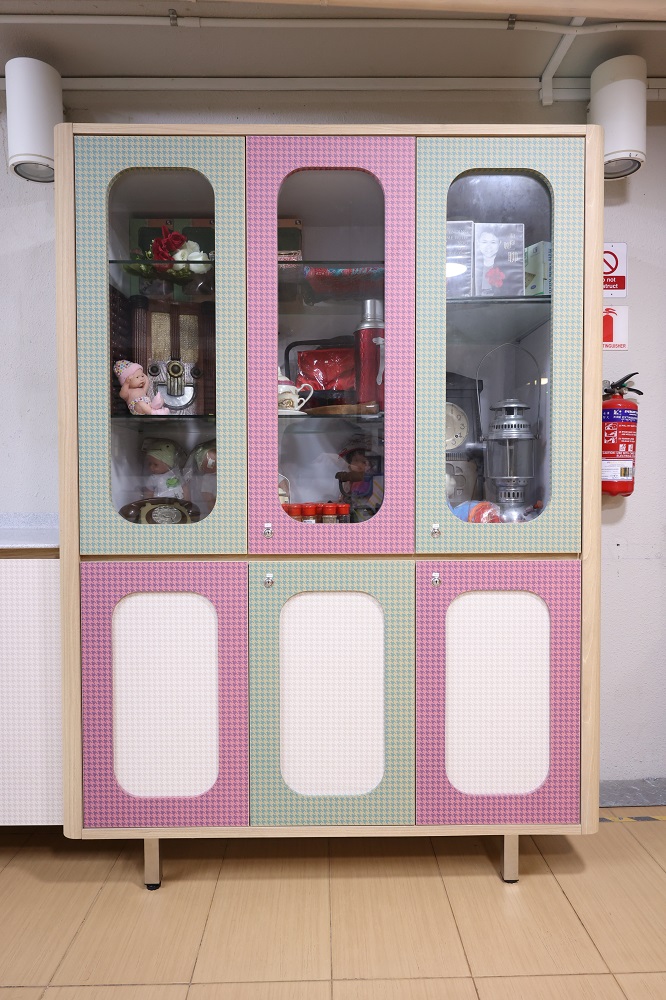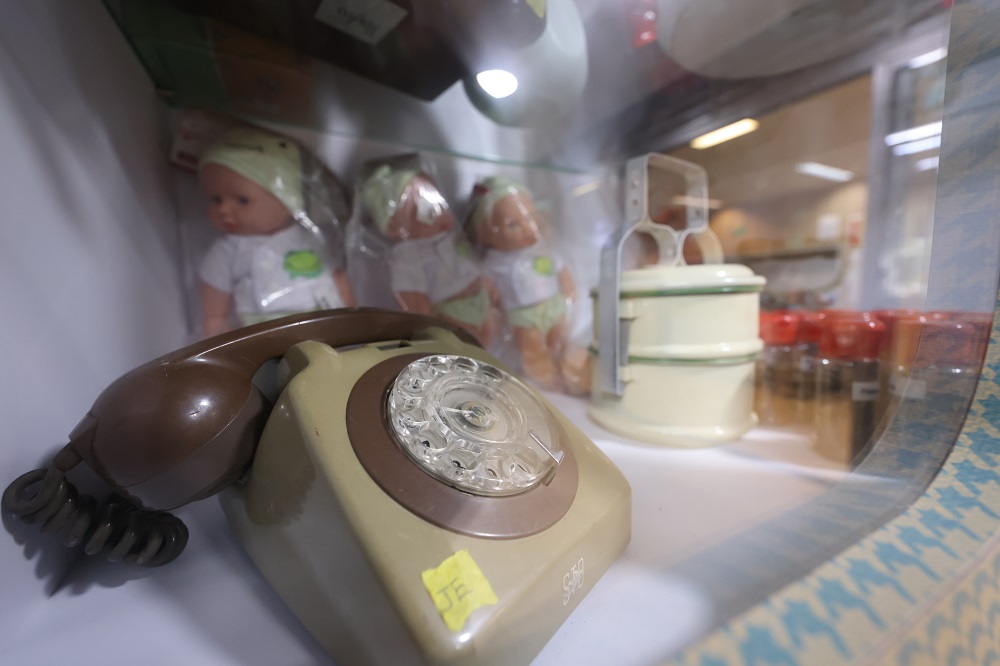 The nostalgic corner is equipped with modified furniture for safety reason and adorned with plenty of commonly found household objects in the olden days – ancient flask, porcelain teapot set used in traditional Chinese weddings, tingkat (means iron tiffin in Bahasa), rotary phone, grandfather clock, vintage radio, kerosene lamp and abacus, just to name a few.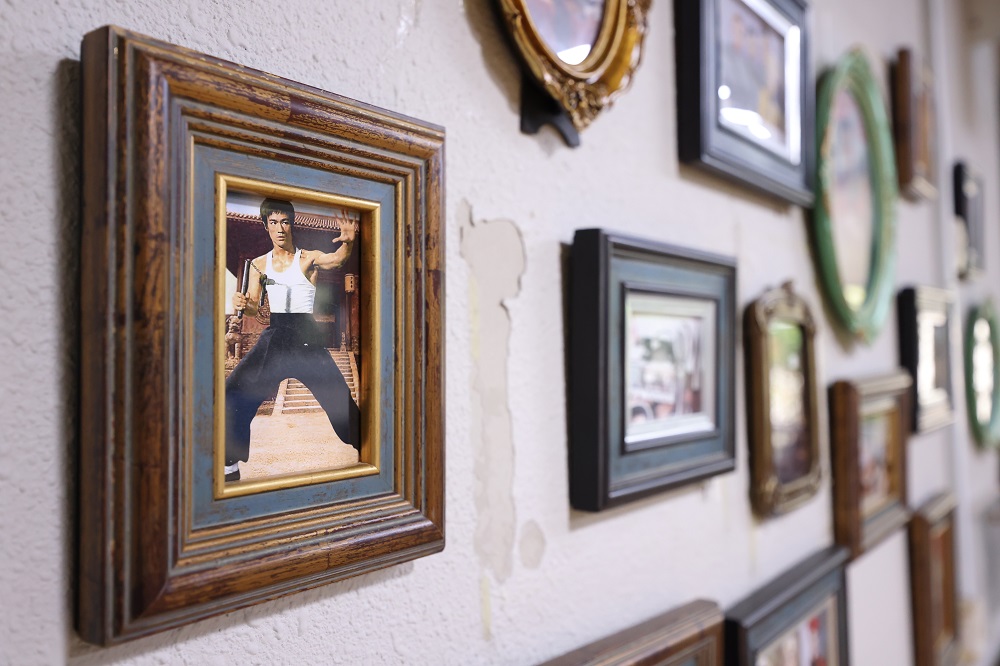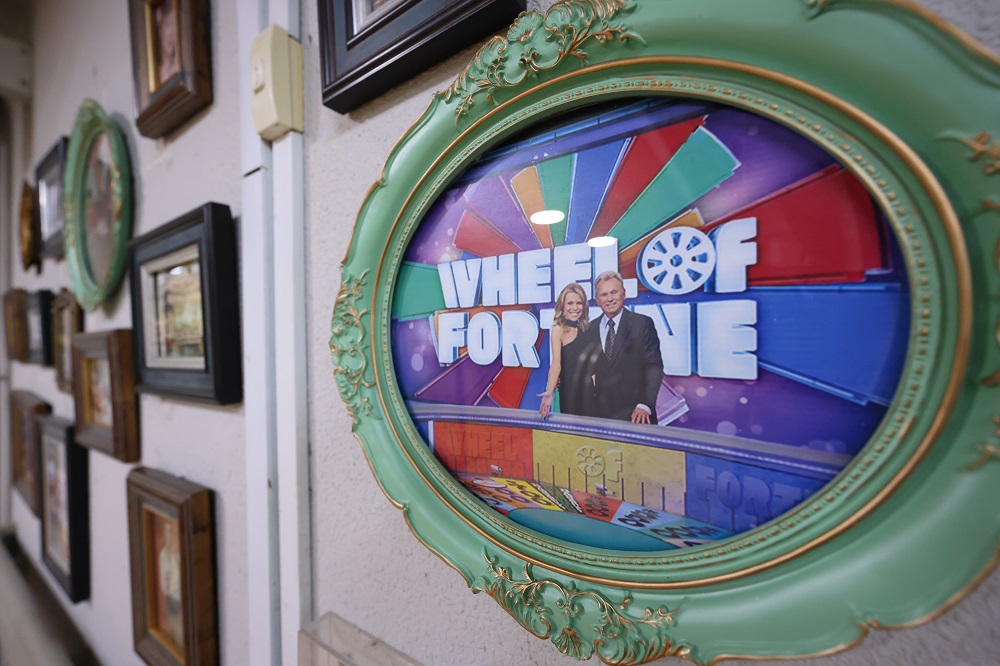 The wall was not left blank either. Bruce Lee, Teresa Teng, Fong Fei-Fei, Wang Sha Ye Feng, Wheel of Fortune and many others, were those legendary singers and movie/TV celebrities that many of the elderly were crazy about in their young adult age. Hung up with retro and classic photo frames, these images remind them the only few entertainments they had but enjoyed the most during their younger days.
This is a meaningful interior design and renovation project. Our experience working with All Saints Home, a nursing home which puts its residents before everything else, was definitely a happy and efficient one. We are looking forward to have the opportunity to work together again.