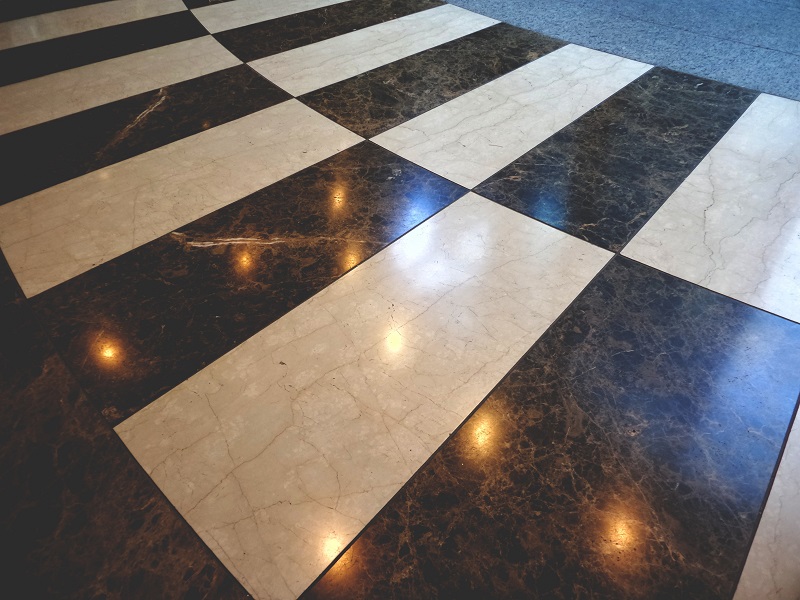 With technology advancement nowadays, the flooring options for workplace have been revolving and improving. They become more aesthetically pleasing, customizable, durable and demand lower maintenance costs. Carpet, carpet tiles, vinyl, rubber and hardwood, just to name a few, are flooring commonly used today. Deciding the ideal office flooring for different areas of your workplace can be tough for those who are not professionally trained. However, having a basic understanding of the various types of flooring enables a better decision making. We have categorised the flooring options into higher and lower price ranges and we hope this post is useful to you.
Higher-Priced Flooring Options
Ceramic Tiles
Ceramic tiles flooring is a popular choice for residential homeowners living in warm climates. The tile is made of natural clay and available in many colours, shapes and sizes. It is able to withstand moisture, easy to clean and durable. However, it lacks noise insulation capability. If cracked, it can be difficult to replace.
Hardwood Flooring
From pale grey to dark brown, hardwood flooring makes a space look warm, supreme and classic. It requires a generous budget but can be very durable as long as it is protected from water and moist.
Natural Stone Tiles
Natural stone offers a natural, elegance and luxurious look. Each tile is unique in terms of colour shades and grains.  It is very durable and will never get out-of-date.
Lower-Priced Flooring Options
Bamboo Flooring
This is an eco-friendly flooring because bamboo grows much faster than wood. Its appearance is also similar to wood but only costs a fraction of hardwood flooring. It offers a multitude of colour shades and grains. However, it does not possess good acoustic control quality.
Carpet and Carpet Tiles
They are great noise insulators. Carpet tiles are cheaper to maintain because only tiles which are damaged need to be replaced. If your office has lots of standing workers, soft flooring can offer a better underfoot comfort.
Laminate
Laminate is a cheaper alternative to stone tiles, ceramic tiles and hardwood. It is simple to install, durable, water and scratch resistant. It offers wide design varieties such as wood or stone appearance, in either matte or high gloss finishing.
Rubber Flooring and Rubber Tiles
Commonly installed at gym centres, playground and weight room, rubber flooring and rubber tiles provide shock absorbing impact protection for premises and users. They are made of highly durable (recycled) rubber, flexible and easy to install, easy to maintain, slip/heat/water resistant and noise proof.
Sheet Vinyl Flooring
You may have seen coved up skirting and sheet vinyl flooring installed in hospitals, childcare centres, classrooms and commercial kitchens. They have several benefits that make them an ideal flooring option for workplaces which require greater level of hygiene. Know more about Coved Up Skirting and Sheet Vinyl Flooring here.
Conclusion
There are many other flooring options available such as concrete, travertine, pebble stone and sandstone tiles to serve different purpose and fulfil the needs of customers with different budgets. While price is an important factor for consideration and it depends vastly on the complexity of installation and material cost, one should not ignore the maintenance cost, replacement cost and flexibility of repair. Some flooring options require only replacement of certain damaged portions instead of having to replace the whole flooring.
A workplace generally has more than one type of flooring in use, e.g. vinyl flooring for the pantry, carpet tiles flooring for the boardroom and rubber tiles for kid's fun room. Using the ideal office flooring can make a space appear exquisite, comfortable, safe and easy to maintain.