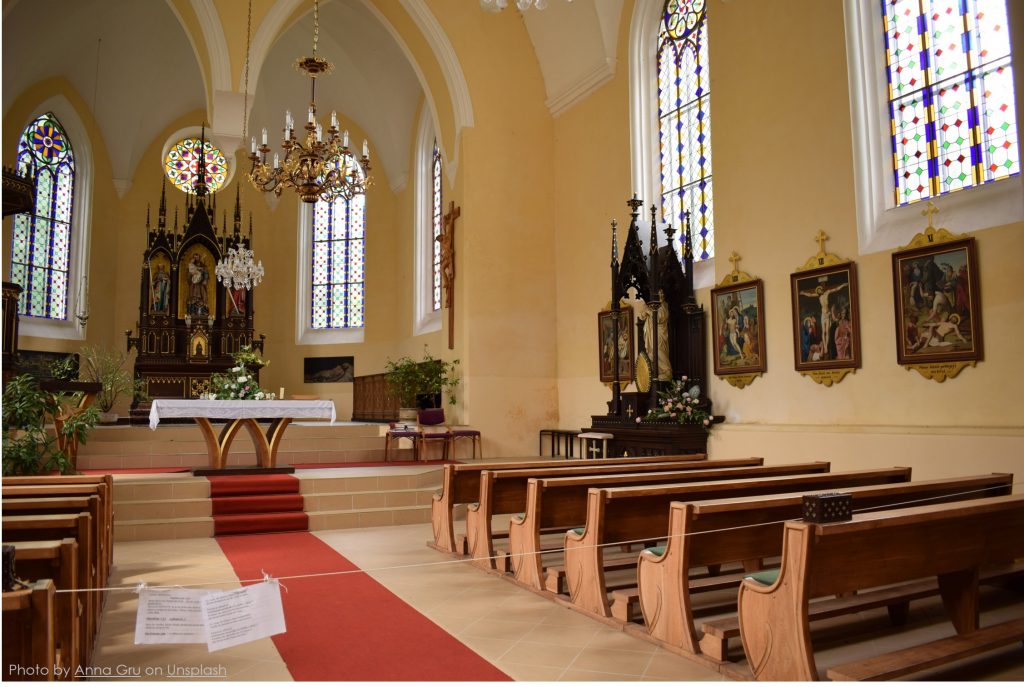 A house or place of worship is any building or other place where people gather and perform activities associated with a religion. Places of worship can include churches, temples, monasteries, synagogues, mosques, and similar places of worship. The reopening of houses or places of worship during the continuing threat of the novel coronavirus should not be interpreted as lessening of the threat of the virus. Failure to adhere to appropriate safeguards during such services, could result in the continued spread of the virus. Some urban religious facilities are residence to viral and antibody testing of undocumented and indigent people for the novel coronavirus, SARS CoV-2 virus. This document focuses on those houses of worship where people gather for religious services, rather than religious services found in the home. Other activities associated with religious organizations can include schooling, temporary sheltering and/or feeding for the needy, business meetings, conferences, retreats, and other social gatherings for cultural and sporting activities. Many of these same recommendations provided in this document can apply to these extended venues. This guide helps address some of the pressing questions houses of worship may have, including:
How can we protect the congregation, staff, volunteers, guests and their children from exposure to the virus?
Can live streaming or outdoor services be used for services weddings, funerals, gatherings and religious study?
How can we minimize the risk of disease transmission without contact tracing of positive COVID-19 individuals?
How do we deal with cleaning and sanitizing contact surfaces used in religious ceremonies?
Can the choir be physically separated from the congregation, or should we use pre-recorded music?
How do we manage co-mingling and shared facilities of indoor spaces with different religious orders?
What should employers, religious organizatons, and leaders of places of worship do to protect themselves and their congregaton, guests, and visitors?
Measures can be taken to reduce the risk of transmitting the SARS CoV-2 virus from touching surfaces or transmitting it from person-to-person by respiratory droplets from coughing or sneezing, or by small aerosols (microfine viral particles in air) from close contact during normal conversation, singing or prayer. Clear communication and utilization of social, print and digital media can be used help educate the congregation on the appropriate control measures to protect their health.
Employers, religious organizations, and leaders of places of worship should continually monitor international (World Health Organization – WHO), Ministry of Health (MOH) guidelines for updates and changes in recommendations, cleaning and disinfecting strategies, and other best management practices. They also should seek guidance from regional, national, and international leaders, relative to health policy and best practices, as well as consider forming a team of professionals to monitor, assess, and implement new strategies, as they become available. In addition, employers, religious organizations, and leaders of places of worship should consider the following strategies for reducing the risk of COVID-19 transmission in regards to physical distancing, increased ventilation and air filtration, enhanced cleaning practices, restrooms, religious study in classrooms, food preparation, communal contact surfaces, spiritual offerings, personal hygiene, employee wellness, respirator and facial mask usage, personal protective equipment, training, waste and laundering, and risk communication.
Due to the wide variety of religions and houses of worship, functions, and sizes, it may not be possible for organizations to implement all of the control measures. However, trying to tackle the problem from multiple angles and with multiple layers can help reduce health risks. Employers, religious organizations, and leaders of houses or worship should support COVID-19 prevention activities, procedures, and education.
Please contact us to obtain the complete guidance.
Source: Scanmicron