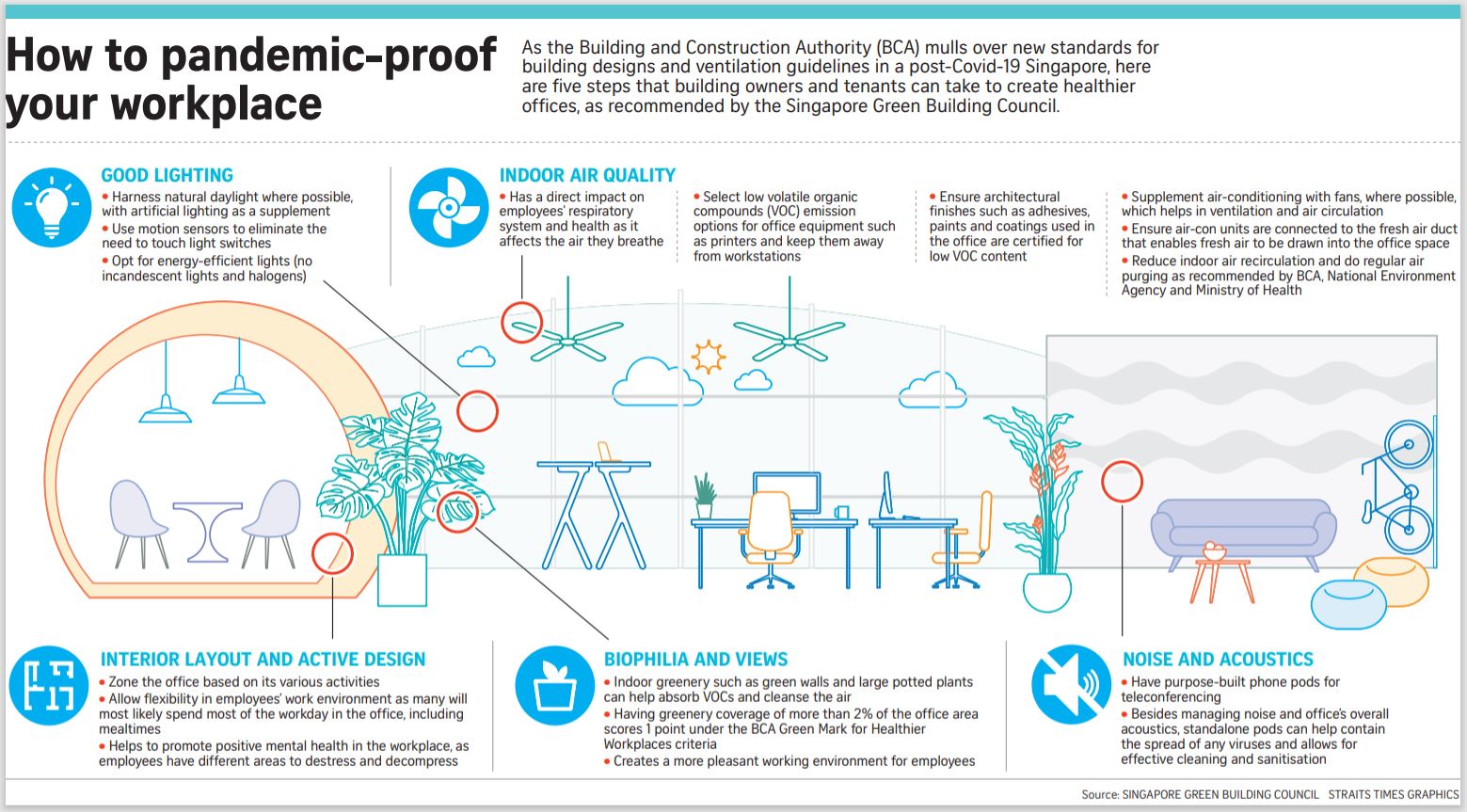 As the Building and Construction Authority (BCA) mulls over new standards for building designs and ventilation guidelines in a post-COVID-19 Singapore, here are five steps that building owners and tenants can take to create healthier offices, as recommended by the Singapore Green Building Council.
Good Lighting
Harness natural daylight where possible, with artificial lighting as a supplement.
Use motion sensors to eliminate the need to touch light switches.
Opt for energy-efficient lights (no incandescent lights and halogens)
Indoor Air Quality
Has a direct impact on employees' respiratory system and health as it affects the air they breathe.
Select low volatile organic compounds (VOC) emission options for office equipment such as printers and keep them away from workstations.
Ensure architectural finishes such as adhesives, paints and coatings used in the office are certified for low VOC content.
Supplement air-conditioning with fans, where possible, which helps in ventilation and air circulation.
Ensure air-con units are connected to the fresh air duct that enables fresh air to be drawn into the office space.
Reduce indoor air re-circulation and do regular air purging as recommended by BCA, National Environment Agency and Ministry of Health.
The Air Quality Index (AQI) is an index for reporting daily air quality. It tells you how clean or unhealthy your air is, and what associated health effects might be a concern. The AQI is calculated for four major air pollutants: ground level ozone, particle pollution, carbon monoxide, and sulfur dioxide.

| AQI Value | Air Quality Is |
| --- | --- |
| 0 - 50 | Good |
| 51 - 100 | Moderate |
| 101 - 150 | Unhealthy for sensitive groups |
| 151 - 200 | Unhealthy |
| 201 - 300 | Very unhealthy |
| 301 - 500 | Hazardous |
Interior Layout and Active Design
Zone the office based on its various activities.
Allow flexibility in employees' work environment as many will most likely spend most of the workday in the office, including mealtimes.
Helps to promote positive mental health in the workplace, as employees have different areas to destress and decompress.
Biophilia and Views
Indoor greenery such as green walls and large potted plants can help absorb VOCs and cleanse the air.
Having greenery coverage of more than 2% of the office area scores one point under the BCA Green Mark for Healthier Workplaces criteria.
Creates a more pleasant working environment for employees.
Noise and Acoustics
Have purpose-built phone pods for teleconferencing.
Besides managing noise and office's overall acoustics, standalone pods can help contain the spread of any viruses and allows for effective cleaning and sanitisation.
Source: Singapore Green Building Council, Straits Times graphics