TM08-F, terminal display vertical module of temperature measurement and face recognition uses Rockchip RK3288 / RK3399 / Qualcomm MSM8953 high-performance hardware platform, equipped with industrial-class binocular camera, live face recognition technology and infrared thermal imaging module to support face-with-mask identify. It also supports expansion of various peripherals such as ID card readers, fingerprint readers, etc., which can be applied to gate passages and attendance system to achieve safe and efficient access control for personnel.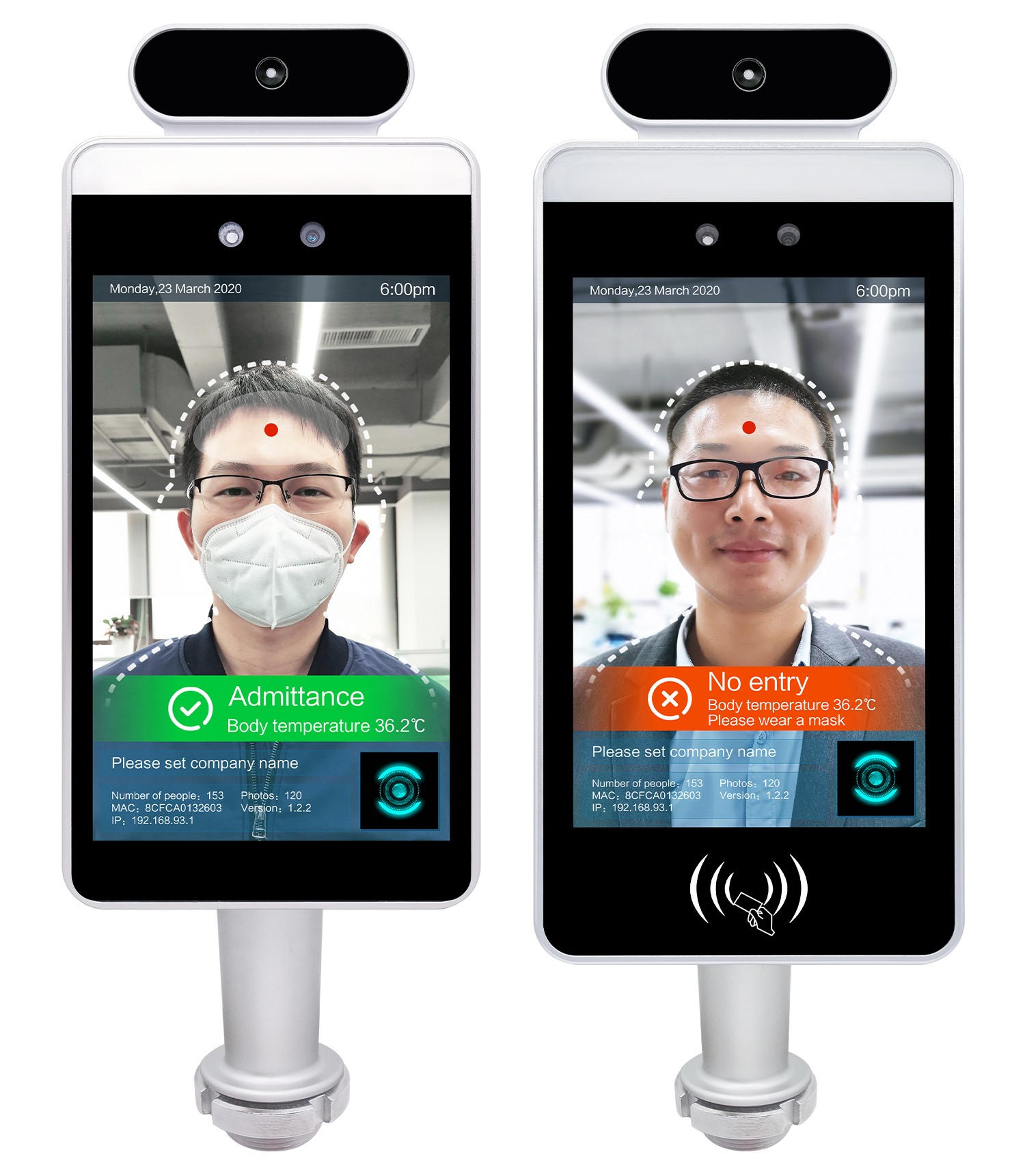 Application
It can be used with access gates and attendance for communities, office buildings, schools, hotels, scenic spots, transportation hubs and other public service places.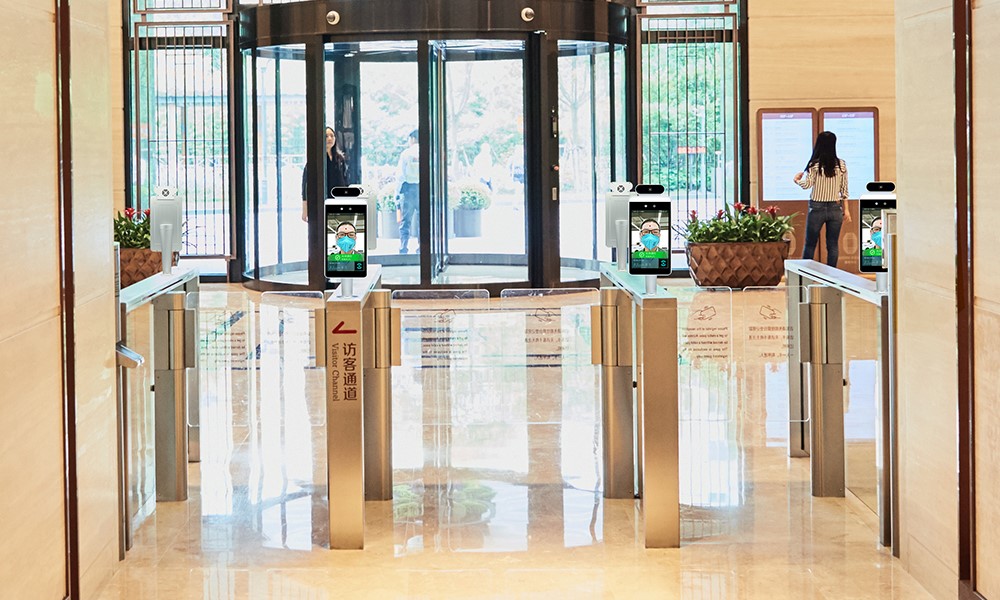 Features
8-inch IPS full-view LCD display.
Industrial-class appearance, waterproof and dustproof design which is stable and reliable.
Supports 30,000 face database. The 1: 1 comparison recognition rate is more than 99.7%, the 1: N comparison recognition rate is more than 96.7%@0.1% misrecognition rate, and the live detection accuracy rate is 98.3%@1% misrejection rate. Face recognition pass speed is less than 1 second.
Supports accurate face recognition and comparison while wearing a mask.
Using industrial-grade binocular wide dynamic camera, night infrared and LED dual photo flood lamp.
Support processors with strong performance: Rockchip RK3288 quad-core processor, Rockchip RK3399 six-core processor and Qualcomm MSM8953 octa-core processor.
Supports human body temperature detection and temperature display. The best temperature detection distance is 0.5 meters. The longest distance at which body temperature can be measured is 1 meter. The measurement error is plus or minus 0.5 ℃.
It only takes a few seconds for detection, and supports automatic alarm for body temperature abnormality.
Attendance temperature measurement data is exported in real time.
Supports various peripheral expansions such as ID card reader, fingerprint reader, IC card reader, two-dimensional code reader, etc.
The documentation is complete and supports secondary development.
Support system level, APP offline level, APP + background network level multiple API docking.
Appearance and Size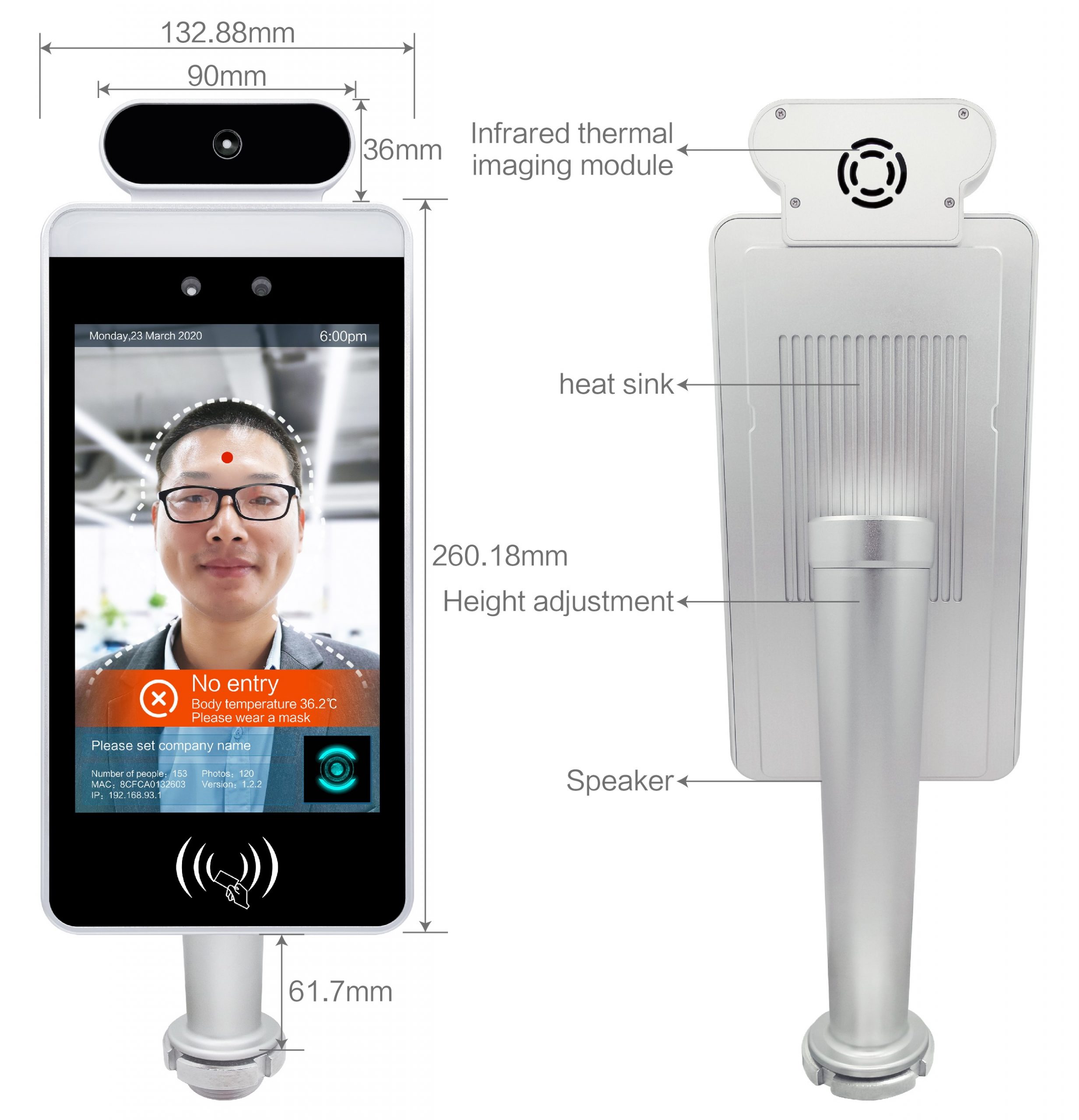 Brochure
Click at the respective links below for product brochures.
Facial Recognition Temperature Sensor TM08-F 7port
Facial Recognition Temperature Sensor TM08-W 7port