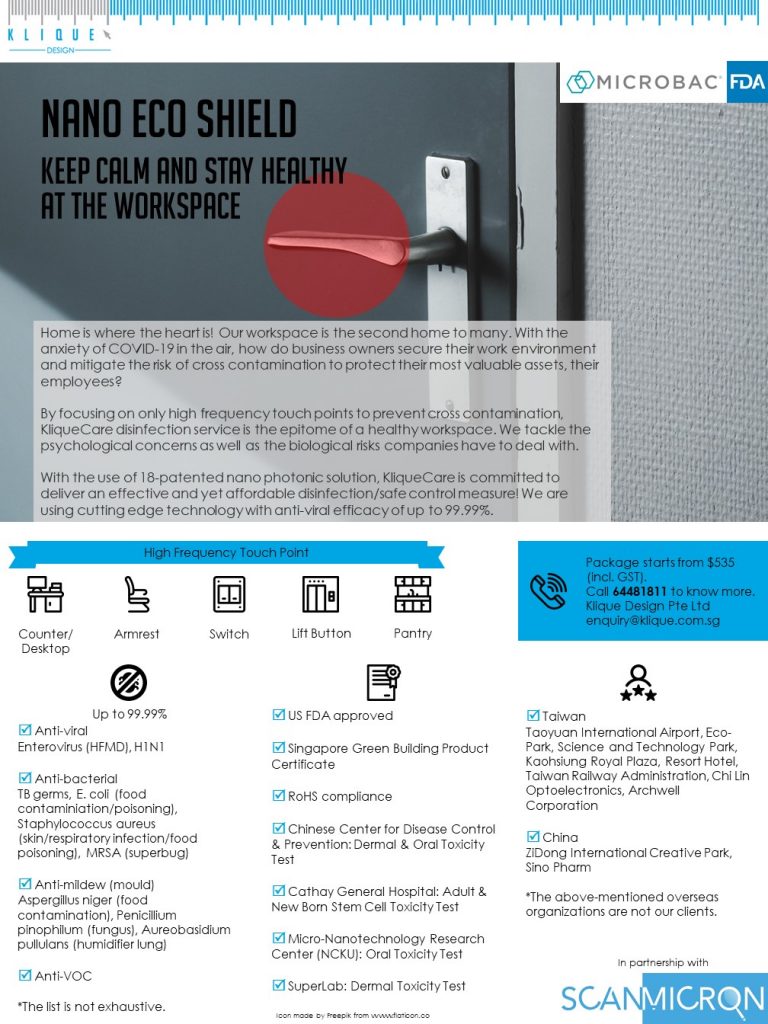 Home is where the heart is! Our workspace is the second home to many. With the anxiety of COVID-19 in the air, how do business owners secure their work environment and mitigate the risk of cross contamination to protect their most valuable assets, their employees?
By focusing on only high frequency touch points to prevent cross contamination, KliqueCare disinfection service is the epitome of a healthy workspace. We tackle the psychological concerns as well as the biological risks companies have to deal with.
With the use of 18-patented nano photonic solution, KliqueCare is committed to deliver an effective and yet affordable disinfection/safe control measure! We are using cutting edge technology with anti-viral efficacy of up to 99.99%.
Efficacy
Anti-viral, bacterial, mildew (mould) of up to 99.99% and anti-VOC (volatile organic compound)
Virus
Enterovirus (HFMD), H1N1, Respiratory Syncytial Virus
Bacteria
TB germs, E. coli (food contaminiation/poisoning), Staphylococcus aureus (skin/respiratory infection/food poisoning), Pseudomonas aeruginosa (infections in the blood, lungs [pneumonia]), Legionella pneumophila BCRC16054, MRSA (superbug), Candida albicans, Salmonella enterica subsp. enterica
Mildew (mould)
Aspergillus niger (food contamination), Penicillium pinophilum (fungus), Chaetomium globosum, Gliocladium virens, Aureobasidium pullulans (humidifier lung)
The anti-microbial feature in  NanoEcoShield™ is achieved via the following:
a) Inhibiting the synthesis of proteins and nucleic acids (ie. suppresses reproduction)
b) Inhibiting cell-wall synthesis (ie. without an intact cell-wall, pathogens would
rupture and die due to osmotic stress)
c) Inhibiting enzyme activities (ie. blocks the 'activity level' of the pathogen,
eventually leading to it's death)
It has excellent anti-microbial results even without the need for direct exposure to sunlight. Because of its anti-microbial properties, it can deodorize odor.
With its VOC reduction attribute, by applying the solution to an area of 200sqm, it is equivalent to planting of 25 poplar trees.
18 Patents Held Globally
Taiwan x 11
China x 4
Germany x 1
Japan x 1
USA x 1
Our Certifications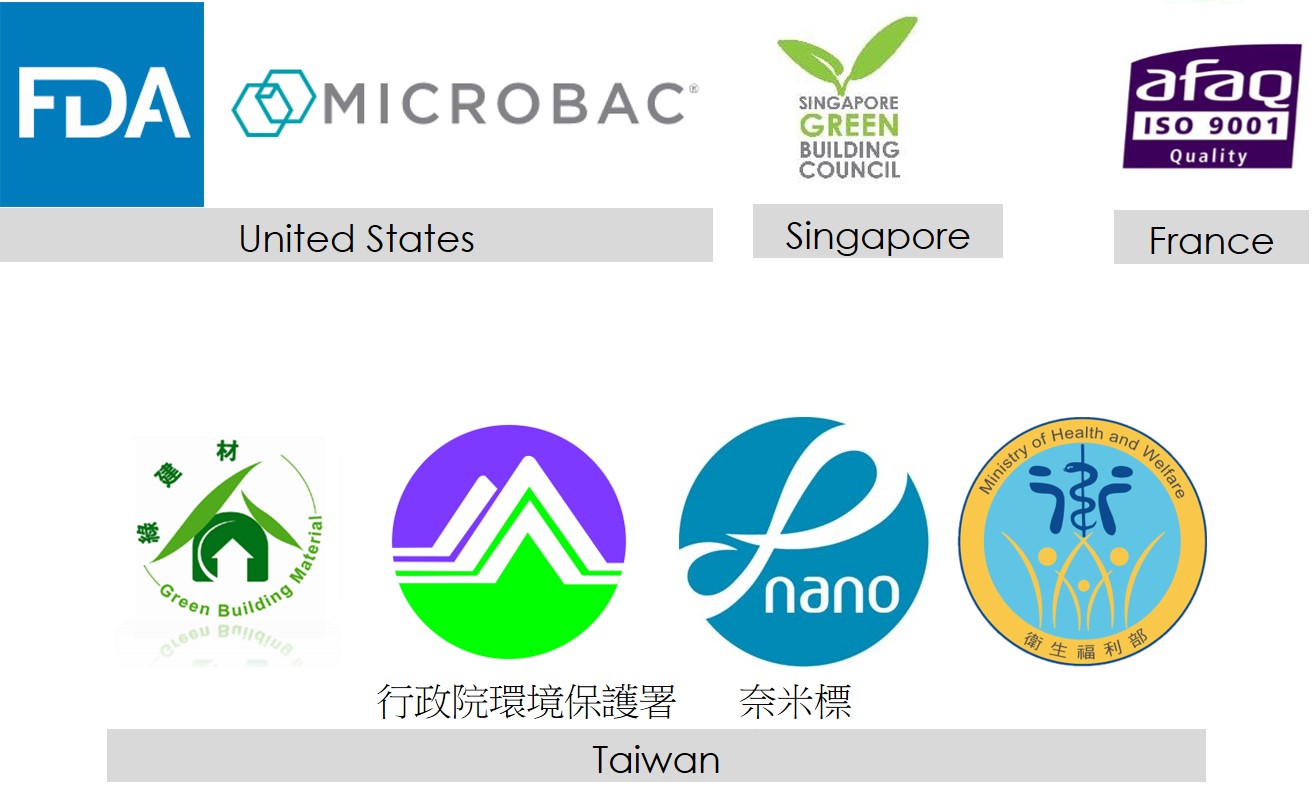 Our Test Reports
Application Demonstration
| Hardware types | Cladding tiles, walls and floors | Sanitary wares | Climatory-control, air-exchange units | Glass partition and windows | Lighting sources and fixtures |
| --- | --- | --- | --- | --- | --- |
| Examples (incl. but not limited to) | Marble, ceramic | Marble, ceramic, metallic, plastic | Air vents, air filters, air purifiers | | |
| Anti-viral and bacterial | Yes | Yes | Yes | Yes | Yes |
| Anti-fouling | Yes | Yes | Yes | | |
| Anti-fungal | | | | Yes | |
| Anti-VOC | Yes | Yes | Yes | | Yes |
Our Clients
Please access this link for our list of clients who have engaged us for this service.